About Us

Sagescript Institute, Ltd. was formed in 2003 to meet the need for information on the evidence based use of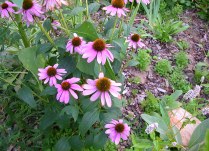 botanicals as well as microbiological services for the home cosmetics crafter. Cindy Jones has worked as a medical educator and writer with an interest in the effects of phytochemicals on human health and physiology for many years. She has written extensively on evidence-based botanical treatments both for magazines and private companies. She earned her Ph.D. in biochemistry/ molecular biology from the University of Cincinnati medical school, and also has degrees in microbiology, chemistry and toxicology. She has done research on the properties of natural products and the molecular events in cancer development. Having performed research in both academic and industrial settings she has published several scientific papers that are indexed on MedLine. She brings a scientific perspective to the field of herbalism and skin care.
Dr. Jones teaches a number of college courses as well as community based classes and workshops. These courses include Human Anatomy & Physiology, Phytochemistry, Understanding Research, Herbs for Stress, Antibiotic Herbs as well as other herbal topics. She has also given wellness seminars for a variety of businesses as well as lectures on phytotherapy topics.
As a medical writer she has made contributions to a number of books including: "The Herbal Drugstore," "Gale Medical Encyclopedia," "Gale Encyclopedia of Cancer," and "The Medical Disability Advisor."
She has written extensively for magazines including "Herbs for Health," "Nutrition Science News," "Functional Foods and Nutraceuticals", "Natural Health," "The Herb Quarterly" and "Mothering."
She has also worked as a consultant to several health and medical organizations writing educational materials for both patients and physicians.
"
The Antibiotic Alternative
" is her first solo authored book and covers the topic of overusing antibiotics. Her second book is now available as an ebook; "
Herbs for Healthy Skin
" with Mushroom ebooks. "Foods and Phytochemicals in Cancer Prevention and Treatment" is a CME course intended for medical professionals and can be accessed at
www.arcmesa.com
.
Dr. Jones is from Columbus, Ohio and now makes her home in sunny Colorado with her husband, two sons and a few animal friends. There she is an avid grower and user of herbs and other botanicals.
National and professional organizations she belongs to or has belonged to include:
· American Association for the Advancement of Science (www.sciencemag.org)
· American Medical Writers Association (www.amwa-rmc.org)
· American Society of Pharmacognosy (www.phcog.org)
· Herb Society of America (www.herbsociety.org)
· The Society for Economic Botany (www.econbot.org)
· The Herb Growers and Marketers Network (www.herbnet.com)
· The International Herb Association American
Dr. Jones has also been a guest on numerous radio programs.