Fine Teas and Chocolate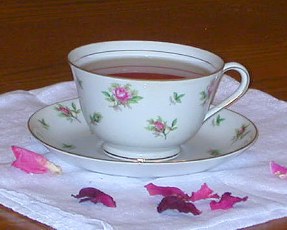 Fine black organic tea from India (Assam) or Fine green organic tea (Pinhead Gunpowder), $4.00.
Fine organic Earl Grey Tea, $5.00.
Teas come in a 4 ounce, airtight tin good for storing your tea. Approximate weight of tea is 3.5 ounces.
Because your tea experience should be relaxing, try our relaxing herbal blends. Our blends are subtle, not perfumey and overpowering as some flavored teas can be.
We will be providing more of these with time as herbs from our gardens become available. Enjoy!
Black tea with rosebuds, $4.50
Green tea with lemon balm, $4.50
Earl Grey tea with lavender, $5.50
Dagoba Organic Dark Chocolate. Enjoy the benefits and delights of chocolate.
Two tempting flavors, $3.00 ea:
dark chocolate, lavender and blueberries or
dark chocolate, mint with a hint of rosemary